Welcome to the Australian Office Taipei
Serving the interests of Australia and Australians in Taiwan
Latest News
Job vacancy- Senior policy research officer
15 June 2017
The Australian Office, which represents Australian interests in Taiwan, is seeking a suitable person to fill the Senior policy research officer position in the Economic & Policy Section. More info ...
Prime Minister Malcolm Turnbull addressed the Shangri-La Dialogue in Singapore
13 June 2017
On 2 JUNE 2017, Prime Minister Malcolm Turnbull addressed the Shangri-La Dialogue in Singapore and set out Australia's vision for the region.
You can watch the Prime Minister give his speech here: https://youtu.be/roqYz5gxPuU
Or you can read the Prime Minister's speech here: goo.gl/jZzlAA
Lectures and workshops in heritage conservation and management in Kinmen
13 June 2017
A team from AusHeritage led by Sharon Veale, CEO of GML Heritage, will be visiting Kinmen and presenting a series of lectures and workshops exchanging knowledge and experiences in heritage conservation and management between Australia and Taiwan. This year marks the sixth AusHeritage mission to Kinmen highlighting the ongoing contributions of Australian heritage professionals to the Kinmen community. Join us to learn more about Australian cultural heritage at Kinmen on 15 – 16 June. To register for the event, please visit http://web.kinmen.gov.tw/Layout/sub_E/News_NewsContent.aspx?frame=81&NewsID=183990
Australia FinTech Expedition
31 May 2017
The Taiwan Academy of Banking and Finance (TABF) is organizing an "Australia FinTech Expedition", supported by the Australian Office Taipei, Commercial Section. Australia is one of the fast-growing FinTech communities in the world, and a proactive advocate for global industry standards and cooperation. The expedition will take participants to Australia's finance capital Sydney; and will bring together key influencers from Australia and Taiwan.
Interested participants can follow the link to find further details and register for the expedition by 23 June 2017.
Movie Night Out - Australian documentary "Men of Wood and Foam"
12 May 2017
Taipei Universiade is putting on a Universiade countdown party, "Movie Night Out", with a full program of sports films and documentaries from different countries. Australian documentary "Men of Wood and Foam" will be shown at 22:30 on 20th May at DaAn Park.
"Men of Wood and Foam" is about Brookvale surfers who transformed surfing into a sport and a subculture with its own music, movies, fashions and heroes. From primitive factories in a former market garden at Brookvale, bordering the favoured wave spots of Dee Why Point and Fairy Bower, these pioneers became known as "The Brookvale Six".
Men of Wood & Foam (60 mins) https://vimeopro.com/user9857775/men-of-wood-and-foam-sizzle-reel
More info on Movie Night Out: http://events.2017.taipei/activity/activity_20170419.html#A01
Working Holiday Makers are not impacted by Australia's recent changes to its Temporary Work Visa (457 visa) scheme
4 May 2017
Given some confusion in news media reports, the Australian Office would like to clarify that Working Holiday Makers, including from Taiwan, are NOT impacted by Australia's recent changes to its Temporary Work Visa (457 visa) scheme (see also: http://www.cna.com.tw/news/firstnews/201704180337-1.aspx).
The working holiday maker program is completely separate and applications are made under a different category of visa (417 visa). Taiwan WHM continue to be very welcome in Australia – so much so that we have no cap on the number of participants! Further information is available here : http://australia.org.tw/tpei/Visas_and_Migration.html
The 457 visa will be replaced by a Temporary Skills Shortage (TSS) visa scheme from March 2018. This will affect a small number of prospective visa-holders from Taiwan. Further information on the change is available at: https://www.border.gov.au/Trav/Work/457-abolition-replacement.
Award-winning Australian author John Marsden will visit Taiwan on 7-9 May
1 May 2017
Award-winning and international best-seller Australian author and educator John Marsden will visitTaiwan on 7-9 May at the invitation of the Australian Office in Taipei, and deliver a talk "Life and Inspiration: from 'Tomorrow Series" on Sunday 7 May 14:00 at the National Central Library in Taipei, to be moderated by well-known author in popular science Joann Chang.
Described as 'Australia's king of young adult fiction', John Marsden is the author of the "Tomorrow series", the movie "Tomorrow When the War Began", and the award-winning illustrated book "The Rabbits", which was illustrated by Shaun Tan. John is also the founder of two alternative schools in Australia. John is looking forward to sharing with you all his life, work, inspiration, and all aspects of education. For registration for the talk: goo.gl/nIefaY For more info: www.johnmarsden.com.au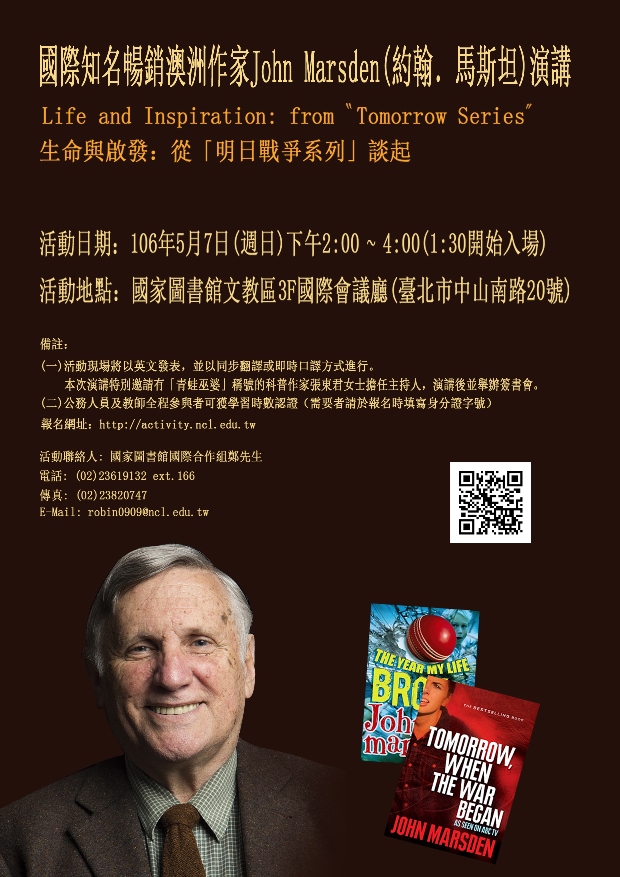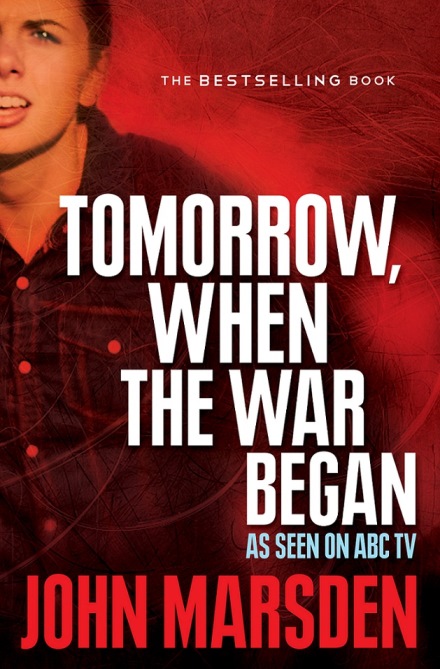 The 2018 Endeavour Scholarships and Fellowships round is now open
28 April 2017
Applications for the 2018 round of the Australian Government's Endeavour Scholarships and Fellowships and the Endeavour Mobility Grants are now open. These scholarships and grants support two-way engagement between Australia and the rest of the world by providing opportunities for Australian and overseas students, researchers and professionals to access learning and research opportunities. More information
ANZAC Day commemoration 2017
25 April 2017
The Australian Office staff led by Representative Catherine Raper joined the international community to mark ANZAC Day commemoration service this morning at the National Central Library in Taipei. The ceremony included the Laying of Wreaths, reading of poems, performances of 'The Last Post' and 'Bagpiper's Lament' and singing of the National Anthems followed by a traditional ANZAC Day morning tea with rum, homemade ANZAC biscuits and meat pies to share with friends and colleagues.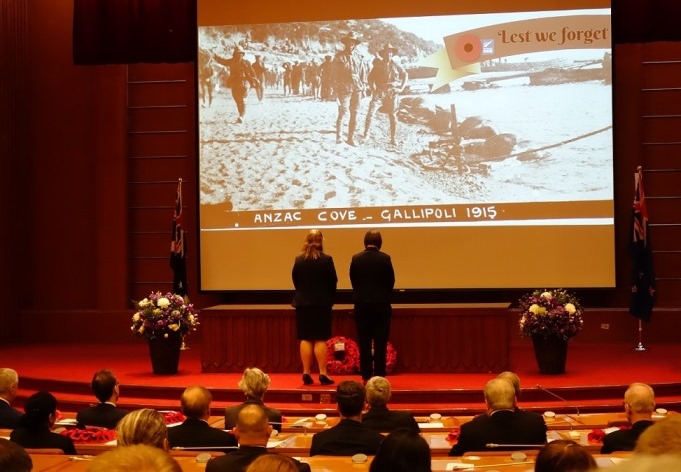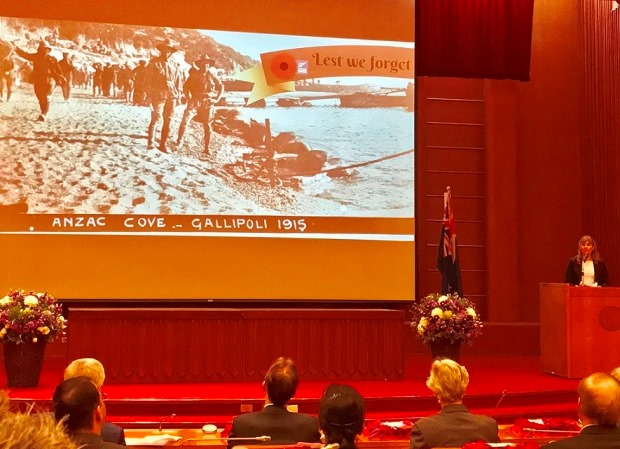 Abolition and replacement of the 457 visa
20 April 2017
On 18 April 2017 the Australian Government announced that the Temporary Work (Skilled) visa (subclass 457 visa) will be abolished and replaced with the completely new Temporary Skill Shortage (TSS) visa in March 2018.
Further information on key reforms is available at: https://www.border.gov.au/Trav/Work/457-abolition-replacement
The Australian Office announced 2017 Australia-Taiwan Alumni Awards Winners
23 March 2017
Australia Representative Catherin Raper announced the winners of the 2017 Australia-Taiwan Distinguished Alumni Award and the 2017 Australia-Taiwan Young Alumni Award at a Gala Dinner on Sunday 19 March, attended by around 300 Australian Alumni from 18 Australian universities. More...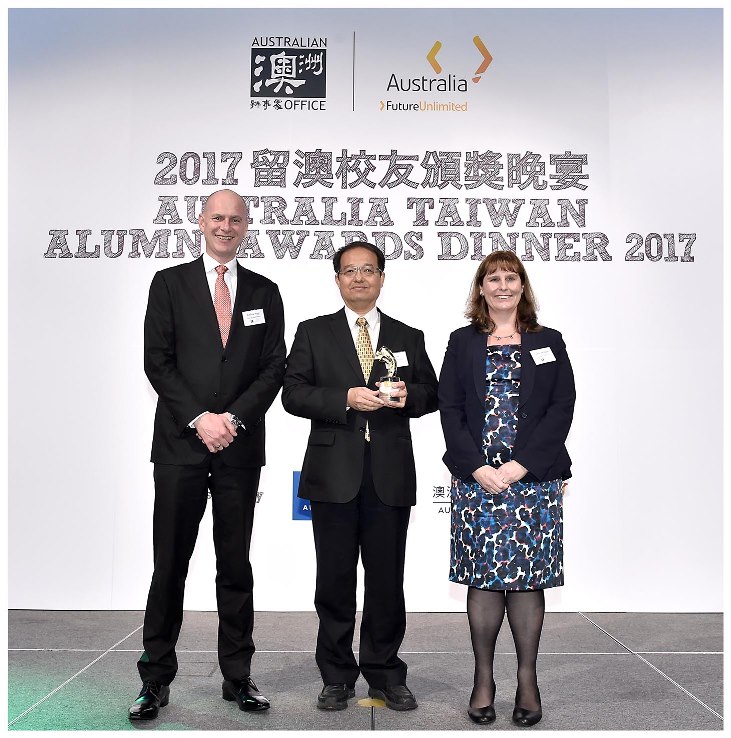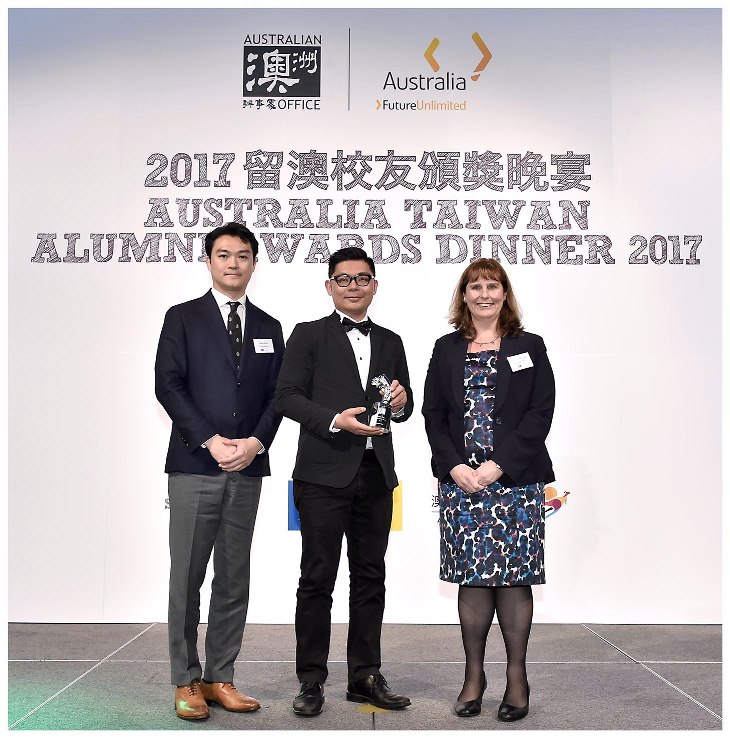 The 2017 Australia-Taiwan Alumni Awards Dinner
17 March 2017
The 2017 Australia-Taiwan Alumni Awards Dinner will be held this Sunday 19 March in Taipei. The Awards celebrate the success and achievements of Taiwanese Alumni of Australian educational institutions. Awards will be presented in two categories:
The Australia-Taiwan Young Alumni Award honours a Taiwanese alumnus or alumna under the age of 40 who has exemplified the characteristics of integrity, initiative, innovation and leadership.
The Australia-Taiwan Distinguished Alumni Award is Australia's highest accolade for Taiwanese alumni who have demonstrated outstanding personal and professional achievements and significantly contributed to the community, their profession, and Alma Mater in Australia or Taiwan.
Remarks for International Women's Day Breakfast
by Catherine Raper, Representative, Australian Office, Taipei
8 March 2017
My sincere thanks to you all for joining us at this morning to celebrate International Women's Day!
I must say I am rather humbled to be addressing a room of such distinguished women. There is an amazing amount of accumulated talent, experience and expertise in this room. Therefore I am hoping that I won't be the only one speaking today. At the end of this presentation, in addition to the usual Q&A, I'd also like to invite you to share your experiences and advice with us all. Please don't be shy – I think it will make for a fascinating discussion.
Passport fees
14 December 2016
Passport fees will increase on 1 January 2017 in line with annual CPI indexation as announced in the Government's 2016-17 Budget.
Notarial service fees will also increase from 1 January 2017, following a recommendation from the Department of Foreign Affairs and Trade's Functional and Efficiency Review.
For further details on these changes, please see Document Fees
Appointment booking
7 November 2016
The Australian Office will officially launch its online booking on Monday, 7 November 2016. Appointment bookings are required for passport applications and notarial services. Clients should not attend the Australian Office without an appointment, except in cases of genuine emergency. Appointments can be booked here http://aotw.setmore.com/
Ask an Aussie:
New Colombo Plan student James Webster
Rose Vassel, the first New Colombo Plan Australian scholar to study and work in Taiwan
Jack Fisher, the Paralegal Assistant at Law Firm Winkler Partners
Useful Links
Australian and New Zealand Chamber of Commerce Taipei