Welcome to the Australian Office Taipei
Serving the interests of Australia and Australians in Taiwan
Latest News
Australian Professors and Taiwanese students collaborated with the Orchid Research and Development Centre
15 February 2017
Taiwanese love orchids, and many Taiwanese grow the flowers. Australian Professor Dr Eleanor Gates-Stuart and the Orchid Team (Taiwanese students from National Cheng Kung University in Tainan) collaborated with the Orchid Research and Development Centre (ORDC) and Professor Hong-Hwa (Director ORDC). Together, they produced ORDC Mazoo, a mythological science/art spaceship laboratory, in sharing the knowledge of the wonderful Orchid plant species. More information: https://eleanorgatestuart.com/2017/02/08/mazoo/
2017 Taipei International Book Exhibition
6 February 2017
Australian publishers are coming to Taipei International Book Exhibition (8 – 13 Feb 2017) at the Taipei World Trade Center. We will showcase a number of new titles brought by Australian Self-Publishing Group "Inspiring Publishers" and two Australian booksellers (Joel Becker of Australian Booksellers Association and Mark Rubbo of Readings Bookstore) will be here to share Australian experience and the future trend of book-selling. Hope to see you at the Australia stand (A1125)!
The Australia-China Council​ (ACC) 2017-18 grant round will open on 6 February
18 January 2017
The Australia-China Council​ (ACC) 2017-18 grant round will open on 6 February. The grant seeks to encourage overseas projects and engagement by individuals and organisations interested in enhancing Australia's bilateral ties with greater China region, including Taiwan, in the priority areas of arts and culture, education and economic diplomacy. The ACC grants are designed to provide seed funding to Australian organisations and individuals. We would not be able to invite Australian Indigenous band B2M to undertake a five-city tour in Taiwan last Nov if without ACC funding support. For those who interested, please find out more info at http://dfat.gov.au/people-to-people/foundations-councils-institutes/australia-china-council/grants/Pages/grants.aspx
The world premiere of "Orb – an extraordinary lunar mystery" in Sydney on 29 April
16 January 2017
Congratulations to CloudGate2 Artistic Director Cheng Tsung-lung who will join the Artistic Director of Sydney Dance Company Rafael Bonachela to present the world premiere of "Orb – an extraordinary lunar mystery" in Sydney on 29 April, then travel to Melbourne and Canberra. This is the first time Cheng Tsung-lung's choreographic work "Full Moon" to be introduced in Australia. Friends in Australia or whoever will be travelling to Sydney, Melbourne, Canberra between 29 April – 27 May. Don't miss out. For more info and ticketing: https://www.sydneydancecompany.com/productions/orb/#.WHw9Tk9f3ct
Representative Catherine Raper's interview by ICRT Radio
12 January 2017
Representative Catherine Raper was recently given the opportunity by ICRT Radio to discuss the existing extensive Australia and Taiwan connections, and how they can be built on further to strengthen the relations even more in the wake of Taiwan's New Southbound Policy. Follow the link to listen to the interview "Looking South Episode #2" on ICRT Radio!
http://www.icrt.com.tw/wordpress/lookingsouth/2017/01/03/looking-south-episode-2-the-new-southbound-policy-and-australia/
Australia and Taiwan signed a revised Air Services Annex
10 January 2017
Good news for air travellers! On 15 December 2016 Australian Office signed a revised Air Services Annex with Taiwan's Civil Aeronautics Administration for further liberalisation of air services between Australia and Taiwan. The amended arrangements will provide for unrestricted capacity for flights from Australia to Taiwan, as well as open code share and intermodal services. Very timely, as latest figures show tourist numbers from Taiwan to Australia are up an impressive 30 per cent. We look forward to welcoming more tourists to Australia!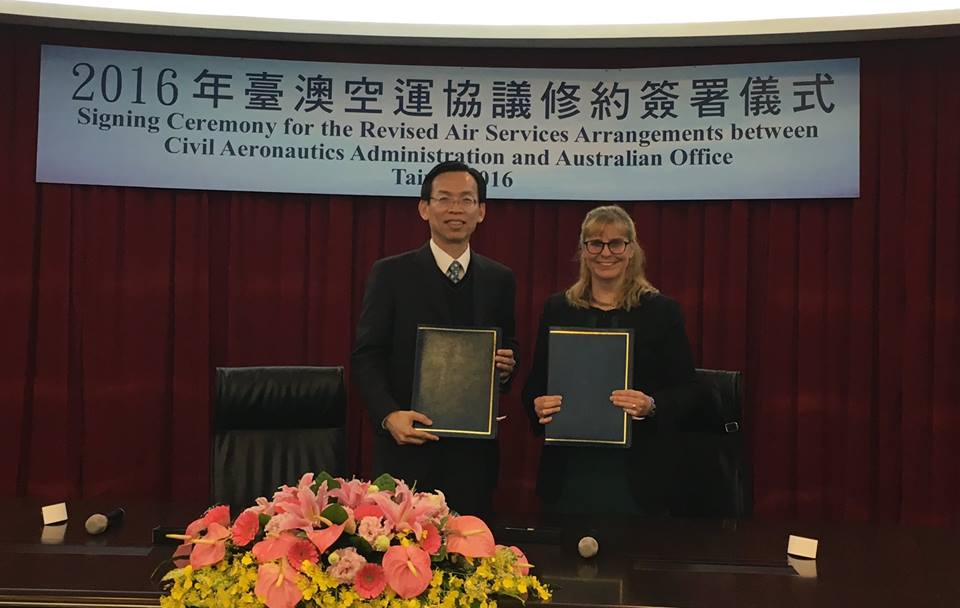 2017 Australia Day Reception Speech
Catherine Raper
Representative, Australian Office, Taipei
5 January 2017
Come join me on a journey of discovery! A discovery of people, places and possibilities. For journeys of discovery are very much at the heart of the connections between Australia and Taiwan.
Passport fees
14 December 2016
Passport fees will increase on 1 January 2017 in line with annual CPI indexation as announced in the Government's 2016-17 Budget.
Notarial service fees will also increase from 1 January 2017, following a recommendation from the Department of Foreign Affairs and Trade's Functional and Efficiency Review.
For further details on these changes, please see Document Fees
Appointment booking
7 November 2016
The Australian Office will officially launch its online booking on Monday, 7 November 2016. Appointment bookings are required for passport applications and notarial services. Clients should not attend the Australian Office without an appointment, except in cases of genuine emergency. Appointments can be booked here http://aotw.setmore.com/
The Working Holiday Maker photography exhibition"Land Down Under"
22 December 2016
The Working Holiday Maker photography exhibition"Land Down Under"is now touring back to Taipei - Tatung University (大同大學)! Taking a walk in their beautiful campus to see the show, and then walking along Zhongshan North Road which is full of shades of trees towards Taipei Expo Park and Taipei Fine Arts Museum seems relaxing for your weekend! The exhibition will be shown at Chih-Sheng Memorial Hall and T. Art Gallery of the university between now and 8 January 2017. Don't miss out!
Ask an Aussie:
New Colombo Plan student James Webster
Rose Vassel, the first New Colombo Plan Australian scholar to study and work in Taiwan
Jack Fisher, the Paralegal Assistant at Law Firm Winkler Partners
Useful Links
Australian and New Zealand Chamber of Commerce Taipei