Queensland-based Williamson Architects was recently awarded third prize in the SHUTER International DreamWorks Architecture Competition, organised by Taiwan's SHUTER Enterprise, which manufactures stationery and furniture for the office and household for domestic and international market - including Australia.
The competition provides an opportunity for outstanding architects who have architectural aesthetics and environmental consciousness to bring their talents into full play. The theme of the competition is "Green DreamWorks" under "Sustainable", "Eco-friendly", "Aesthetics" and "Humanities" concepts.
The award's jury noted that Williamson Architects' submission "conceives of the factory as a tremendous tree. Making the tree the main structure of factory directly connects the design concept to the environment. The exterior of the building is also outstanding". Williamson Architects will now have the opportunity to design SHUTER's "Green Sustainability factory" building project, part of SHUTER Enterprise's company expansion.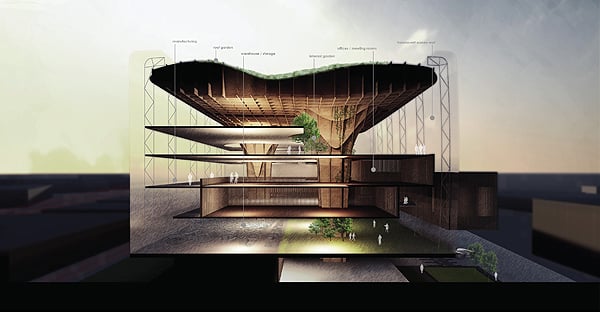 Caption: With a carbon neutral solution in its sights, Williamson Architects' inspiration was taken from the banyan tree which is a common motif in Taiwanese artistic culture.