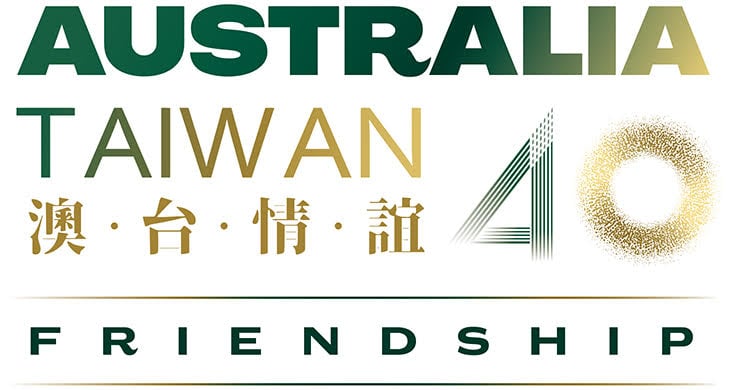 Press Release
To celebrate the 40th anniversary of its establishment, the Australian Office proudly announces the Australia-Taiwan Friendship Year.
Marking the occasion, Representative Bloomfield, together with Taiwan's National Culture and Arts Foundation, launched the 'Australia-Taiwan Friendship Year – Arts Exchange Partnership' to support cultural and arts exchanges between our young peoples, and particularly our Indigenous peoples.
'Art is core to our identity, and this exciting partnership will help further develop the already strong cultural and people-to-people links between the Australian and Taiwanese people', said Representative Bloomfield.
Representative Bloomfield also today launched '40 Years, 40 Stories' - a showcase of personal stories told from Australian and Taiwanese perspectives demonstrating the breadth and depth of our relationship.
'I am excited about the year ahead, as we celebrate Australia-Taiwan Friendship in this 40th anniversary year of the Australian Office. "40 Years, 40 Stories" fittingly shows off the warmth, breadth and longevity of our ties', said Representative Bloomfield.
The launch video features personalities from across this broad spectrum, including Taiwanese baseball legend TS Chang (張泰山), Ansett Aviation Asia General Manager Steve Chiu (邱佳昇), CPC Overseas Operation Division Manager Peng Yi-wen (彭鉯雯), children's book author Kathy Cheng, and consultant Tom Fifield (田記禮). The Office will continue a series of 40 profiles over the coming year.
Opening in 1981, the Australian Office has worked tirelessly to strengthen bilateral relations. We are proud that since the first Australia-Taiwan trade talks in 1990, our trade reached AUD20 billion pre-COVID, and two-way investment reached AUD31 billion in 2020, creating jobs and growth.
In 1991, direct flights were established and over this time the Office has seen a significant increase in our tourism, education and youth links. There were more than 18,000 Taiwanese student enrolments annually at Australian universities pre-COVID; a quarter of a million visas were issued to young Taiwanese under our popular Working Holiday Maker Scheme; and over 1,000 young Australians have visited Taiwan under the Australian Government's New Colombo Plan.
The Australian Office was also proud to support Taiwan's admission as a member of APEC in 1991 and as a member of the WTO in 2002, and values Taiwan's important contributions in international fora to address regional and global challenges.
Australia is Taiwan's number one energy provider, and we are natural partners in the transition to net zero through technologies like hydrogen, and in building strong and reliable supply chains. Australia is proud to be Taiwan's second most popular education destination and we are working together to promote Taiwan's Bilingual 2030 goals.
The Australia-Taiwan relationship also continues to deepen through our thriving trade in premium food and agricultural products, development cooperation in the Pacific, and our work together in APEC, the WTO and the Global Cooperation and Training Framework (GCTF).
'Whether it is our enduring energy/resources and food and agriculture partnership; our growing health, medical and biotechnology links; our financial services cooperation; our education and youth ties; our joint work to promote gender equality, Indigenous opportunity, social innovation and digital technology, governance and human rights; or our work together in international fora – the Australia-Taiwan partnership has never been closer', said Representative Bloomfield.
'But even more important is the long-lasting friendship between the people of Australia and Taiwan. I would like to thank all our partners for your support of the Australia-Taiwan relationship. I look forward to working together, throughout our Friendship Year and beyond, to deepen the friendship between us, and to advance our shared goals'.