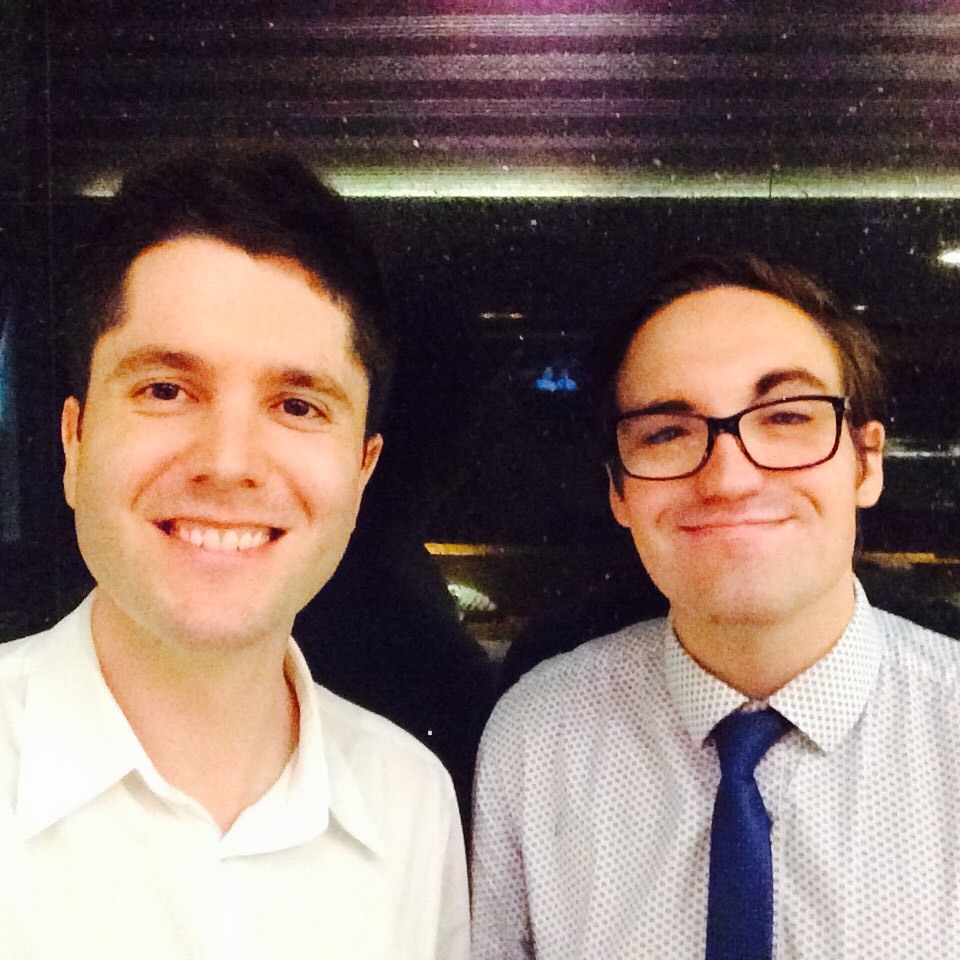 Left to right: Deputy Director Jordan Walsh and James Webster
I have been in Taiwan since September 2016 on a New Colombo Plan (NCP) Mobility Grant. I'm 21 years old, and I live in Hsinchu, where I study Chinese at National Tsing Hua University. In Australia, I study a Bachelor of Arts and Bachelor of Law at La Trobe University in Melbourne.
This is actually my second time in Taiwan. I came in December 2015 for three weeks, also under an NCP Mobility Grant. I heard about the NCP opportunity from my university's exchange department, which invited applications. I came back because I love Taiwan. I think Taiwan and Australia are very similar in a lot of ways – we both have vibrant multicultural populations, very liberal and tolerant, shared indigenous cultures, and we have both been influenced a lot throughout our history by other regions. Taiwanese and Australian people are similar in some ways too – both laid-back, both kind.
I'm originally from Melbourne. Living in Hsinchu is amazing, because it is so very different to Melbourne! I think Melbourne is more laid-back than Hsinchu, but Hsinchu is more laid-back than Taipei. People are however still very industrious and studious. Hsinchu wasn't the most obvious place to study Chinese. Lots of people go to National Taiwan Normal University (Shi Da) in Taipei. But Hsinchu is a big uni town, with National Chiao Tung University, National Tsing Hua University, National Hsinchu University of Education, etc. Hsinchu has lot of high-tech industry. It is kind of like the Silicon Valley of Taiwan. The food in Hsinchu is also great. I have no idea how I have lost 15 kilograms living here!
I had the most amazing experience just recently here in Taiwan. I am part of the choir at Tsing Hua University, and not long ago our choir sung at the National Concert Hall at the Chiang Kai-shek Memorial Hall here in Taipei. We sang Beethoven's Ninth Symphony. It was written in German but we sung it in Chinese. It was a 25 minute song but it took four hours of private tutoring with my choir buddies to get it right, in addition to countless rehearsals. Singing that song in that amazing hall was incredible.
Learning Chinese is pretty tough but it is an amazing experience. I started at school in Australia, but we mainly focussed on culture rather than language. My French is probably better than my Chinese, but Chinese is more difficult than French. English has lots of connections with Romance languages like French but it doesn't have any connections with Chinese! Actually though I think Chinese grammar is easier, because it always follows the rules. I really love traditional Chinese characters. Once you know the concept underlying the character it makes sense. Like the character piao, which means ticket or coupon or piece of paper, is used in toupiao, which means to vote, and chepiao, which means a train ticket, or youpiao, which means a stamp. My Chinese teacher in Australia was from Beijing, so I could only understand some simplified Chinese characters. Now I understand a lot more traditional characters, which I love, because they have lots of meaning within them that you can grasp easily. For example the character for love is 'ai', and the traditional character is so different to the simplified character. The traditional character has a heart 'xin' in it, because of course you need a heart in order to love, but the simplified character doesn't have a 'xin'. I'm actually starting to forget the simplified characters!
My Chinese is getting better and better. I actually was recently the master of ceremonies for the '15th Annual Chinese Bridge Chinese Proficiency Competition for Foreign College Students (Victorian Metro Area)' which was hosted by La Trobe University and the Confucius Institute at La Trobe University. I had to do it all in Chinese – it was so hard! But it was a great experience. I can sing a few Taiwan songs too, like Xiao Xing Yun and Gan Bei.
I would definitely recommend the NCP Mobility Grant. Opportunities like this make Australians more Asia-literate. For me, I have lots of Taiwanese and international friends in Hsinchu. I will miss Hsinchu when I eventually leave, particularly the food and my friends. Particularly the fried chicken with cheese at the night-market! It is a heart attack in a bag and so delicious.