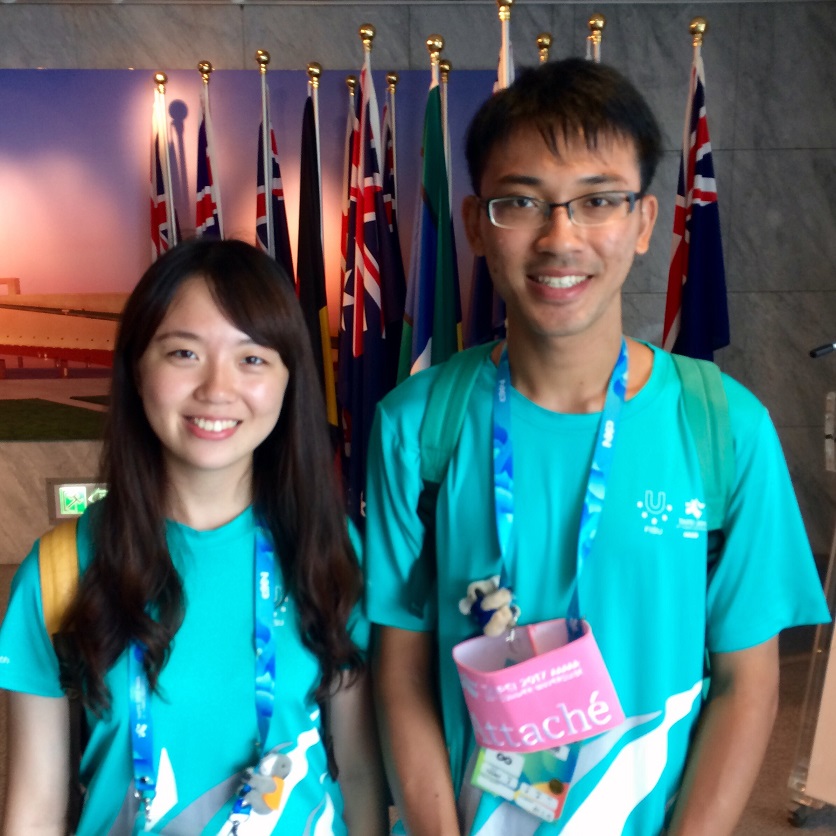 AO Ask Uniroos is a series of mini-interviews with Australian young athletes, administrative managers and local volunteers who are attending the 2017 Taipei Universiade. This time, we catch up the local volunteers Julia (left) and Johnny (right).
Nice shirts! What role are you two playing at the Universiade?
Julia: We are volunteers for the Universiade. We are Taiwanese. We signed up to be volunteers when the Taipei City Government advertised. We had to get interviewed, they tested our English ability, and also they wanted to see if our personalities were kind and caring, and if we were willing to interact with other people. Taipei City Government started recruiting volunteers last year, the information was on the internet. The Universiade is an important event for Taiwan so we wanted to be part of it!
Where are you from?
Julia: My home is in Changhua. It is famous for Baguashan.
Johnny: I'm from Hsinchu, which has lots of Taiwan's high-tech industry.
What sport do you want to see?
Julia: Definitely the soccer and the volleyball! I want to see the Australian teams.
Johnny: I wanted to see the baseball, but the Australian delegation doesn't have a baseball team, so I will see the volleyball instead. I can play a little.
Julia: Actually he is really good!
Have you spent time with the athletes?
Julia: Yes, lots! We don't have access to their dining room but we do have access to the village at Linkou.
Johnny: We don't live in the village at Linkou. The Universiade organisers have helped us find accommodation at a university near the village.
What is the biggest difference between the Australian delegation and Taiwanese people?
Johnny: The biggest difference would be that the Australian team are very outgoing and passionate. They are very nice.
Julia: Yeah, they are all very nice. Some of them are very cute too!