The Australian Office announced 2017 Australia-Taiwan Alumni Awards Winners
Australia Representative Catherin Raper announced the winners of the 2017 Australia-Taiwan Distinguished Alumni Award and the 2017 Australia-Taiwan Young Alumni Award at a Gala Dinner on Sunday 19 March, attended by around 300 Australian Alumni from 18 Australian universities.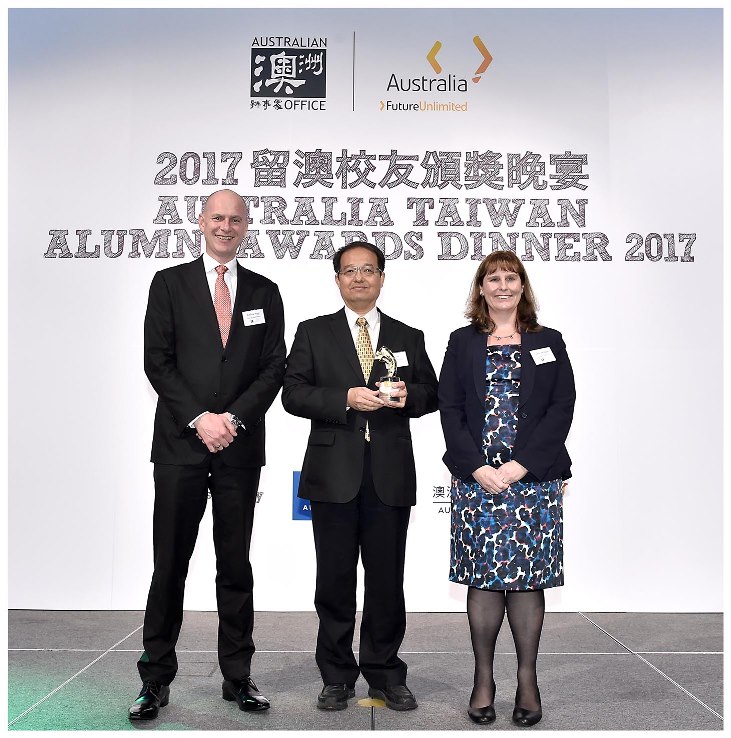 The winner of the 2017 Australia-Taiwan Distinguished Alumni Award is Professor Jin-ding Lin. The Distinguished Alumni Award is Australia's highest accolade for Taiwanese alumni of Australian education institutions who have demonstrated outstanding personal and professional achievements and significantly contributed to the community, their profession, and Alma Mater in Australia or Taiwan. Professor Lin is an alumnus from Griffith University. He is and influential academic and has made an outstanding contribution to Taiwan in the field of disability care.
Professor Lin was one of the youngest professors ever to be appointed Dean of the School of Public Health at the National Defence Medical Centre (NDMC), has won over 30 academic awards and been published over 200 times over the course of his career. As the current Superintendent at the Spring Sunshine Centre for Intellectual Development in Taiwan, Professor Lin has also maintained a leading role promoting and administering disability care in Taiwan, including through launching a pioneering program in 2016 to advance holistic services and comprehensive health management programs for people with intellectual disabilities. Professor Lin has maintained a strong relationship with Griffith University and fostered ongoing cooperation with Australia through his role as Adjunct Professor at Griffith University.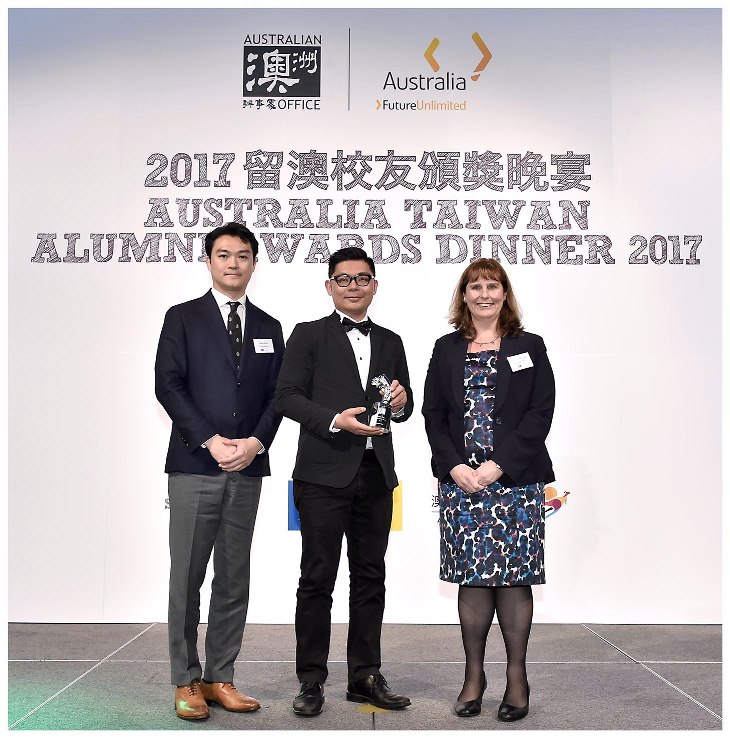 The winner of the 2017 Australia-Taiwan Young Alumni Award is Legislator Yu-jen (Jason) Hsu. The Australia-Taiwan Young Alumni Award honours Taiwanese alumni of Australian education institutions under the age of 40 who have demonstrated a high level of professional accomplishment and significant contributions in their field of choice, and who exemplify the characteristics of integrity, initiative, innovation and leadership. Jason Hsu is an alumnus from Monash University. Demonstrating innovation and initiative, he is the founder The Big Questions Inc, a social innovation consultancy, and is also the founder and curator of TEDxTaipei, and serves as TEDx Ambassador for Asia. Reflecting his capacity for leadership and contribution to Taiwan, Mr Hsu was elected as a legislator and Member of Parliament in 2016, currently sitting on the committee for organic law and justice.
Australian Representative Raper said, "I would like to congratulate Professor Lin on his substantial contribution to Taiwan and Australia in the field of disability care, and thank him for his ongoing support for education cooperation between Australia and Taiwan via his distinguished academic career and ongoing role with his Alma Mater, Griffith University. I would also like to congratulate Mr Hsu on his achievements to date early in his career and the initiative and innovation he has demonstrated so far in contributing to advancing social issues in Taiwan. Both Professor Lin and Ms Hsu represent the very best examples of the strength of the education partnership between Australia and Taiwan, and the great contribution that Taiwanese Alumni of Australian universities continue to make to both Taiwan and Australia."